South West Transit Association
A group of SWTA Members identified as the SWTA Next Generation of Leaders, is made up of a community of like-minded transit professionals from across the SWTA NATION who are looking to connect and grow their network and careers. These members will cater to emerging leaders in the industry and the support/resource of young professionals.  
Mission Statement: Our mission is to provide the resources to help SWTA members grow, and foster the next generation of our industry. Having a young professional group, Next Generation of Leaders, builds future leadership, energizes the transit industry, gains new perspective and helps integrate new technology and best practices.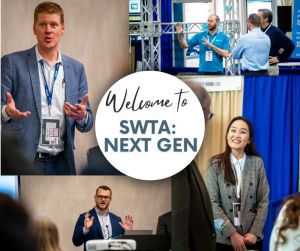 Participants should be one or more of the following:
SWTA Member or Affiliate under the age of 45 
Identified as Mass Transit 40 under 40
SWTA Member or Affiliate who expemlifies leadership qualities 
People who are changing careers (and thus starting over again) or those who want to spend time talking about things like innovation and technology.
SWTA: Next Gen Mentors Council
Next Gen Group will serve as a pipeline to transit professionals to grow their careers 

 

Next Gen members will receive exclusive invites to networking events that are more activity focused 

 

Leadership opportunities either with SWTA or their agency

 

Networking with people of similar age and interests 

 

Attending fun events

 

Learning important best practices in the industry

 

Being around people who have similar stage of life experiences

 

Helping to make your profession more attractive to young people

 

Contributing to create a louder voice for young people in the industry

 

Being part of a mentor/mentee program 

 

Giving back to the community through an identified service project / organization

 

Building a more well-rounded resume

 

Sharing ideas to improve your community and building support for those ideas

 

Learning from peers

 

Discovering new job opportunities before they become advertised giving you an inside edge

 

Making new friends

 

Getting experience in public speaking and improving your networking abilities

 

Finding inspiration to take your career to the next level or following your dream of opening your own business

 

Learning from and exchanging ideas with entrepreneurs